Ode to Pauline Oliveros
Golden Offence Orchestra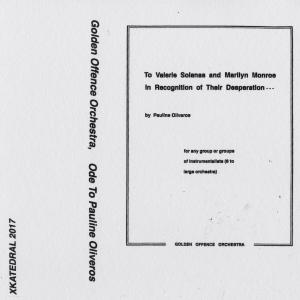 XK09
released August 23, 2017
Composed by Pauline Oliveros Adaptation by Golden Offence Orchestra
Golden Offence Orchestra members heard on this recording include Ellen Arkbro - concertina, Elsa Bergman - double bass, Isak Edberg - electronics, Mats Erlandsson - electronics, Marta Forsberg - violin, Lisa Grotherus - clarinet, Anna Högberg - saxophone, Kali Malone - conductor, Hampus Norén - electronics, Marcus Pal - guitar, Sara Parkman - violin, and Emma Sildén - voice.
Golden Offence Orchestra members not heard on this recording include Adam Grauman, Isis Graham, Katt Hernandez, Maria W Horn, Gus Loxbo, Jenny Lönneborg, Felicia Nielsen, Shida Shahabi, Sarasvati Shrestha, Anton Svanberg, Leo Correia de Verdier and Andy Yeo.
Recorded by Mats Erlandsson, David Granström and Maria W Horn in Stockholm 2013. Mixed by Isak Edberg. Mastered by Mats Erlandsson. Group images by Heiko Purnhagen.